—

Current Locations
6 stores + lounge in CA
—
Seed Devices Active

58 self-service screens
—
Seed Partner Since

August 2019
With 5 retail locations, a consumption lounge, and a few more stores opening in early 2023, California-based The Artist Tree has sights set on expansion.

I love a good dichotomy, and Fontein is that. A corporate attorney turned pastry chef, she formally entered the industry by supplying cannabis-infused bakery items for a friend's medical dispensary. It took off. For nearly a decade, her edible manufacturing company supplied over 100 dispensaries in the LA area.
In 2018, Fontein became a co-owner and built The Artist Tree brand with that same friend, Mitch Kahan, his brother, Avi Kahan, and another partner, Aviv Halimi. But that law degree didn't go to waste … She serves as the company's general counsel, prepares licensing applications, and manages compliance, while also overseeing daily operations, marketing, and community outreach. In her spare time, Fontein helps social equity license-holders with pro bono legal services.
We had the pleasure of hosting an LA-area cannabis industry mixer in late October at The Artist Tree's stunning consumption lounge in WeHo (that's West Hollywood for the non-Californians). Fontein and I caught up the next day over Zoom to talk about her brand and how Seed Self Service has become a staple in every store they open.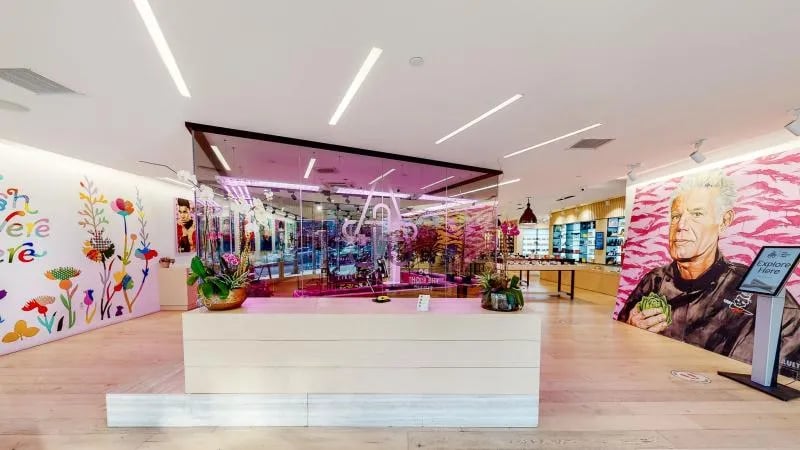 Infusing Art + Cannabis
Walking into The Artist Tree was everything I expected it to be, and more. Not only does the retail entrance ooze personality and style, it's colorful. Modern design and fixtures are becoming more common in dispensaries, but this store is beyond that. It not only features local art. It is art.
"For the first store and lounge in WeHo, we wanted something innovative that supported the culture of the city, which is very creative and artistic. That was how we came up with the brand and the concept of having stores that are art galleries slash cannabis dispensaries," explains Fontein.
This art angle isn't just their brand, it's their differentiator in a crowded market. And they seamlessly execute on incorporating technology into the artistic storefronts.
Value of Immersive Technology
The Artist Tree has been using Seed self service since they opened. Why?
1. Educational opportunity for customers.
Touchscreen units mounted throughout the store allow customers to independently browse the menu, take a consultative quiz, and click in to learn more about products & prices.
When we opened The Artist Tree, we thought Seed was such a great product because we could give our customers not just the menu component and in-store ordering — which is important — but also the educational component.

—


Lauren Fontein


Co-founder and Chief Compliance Officer at The Artist Tree
Some of The Artist Tree locations are high traffic, and Fontein and team like having technology that serves two important purposes: an option to be able to self order, and then an option to be able to browse and get more information without having to rely on a budtender.


2. Quicker transactions for experienced shoppers.
"There are people that just want to get in-and-out and know what they want. They can go to the screen, make an order without having to interact with a human, and their order will get filled quickly," says Fontein. "That is an important service we can offer our customers."
Their service model is the 1-on-1, budtender-to-customer model where someone assists you and guides you through the store. "That model is great, but some people don't want that so that's why we prefer to have both options in our stores," Fontein explains.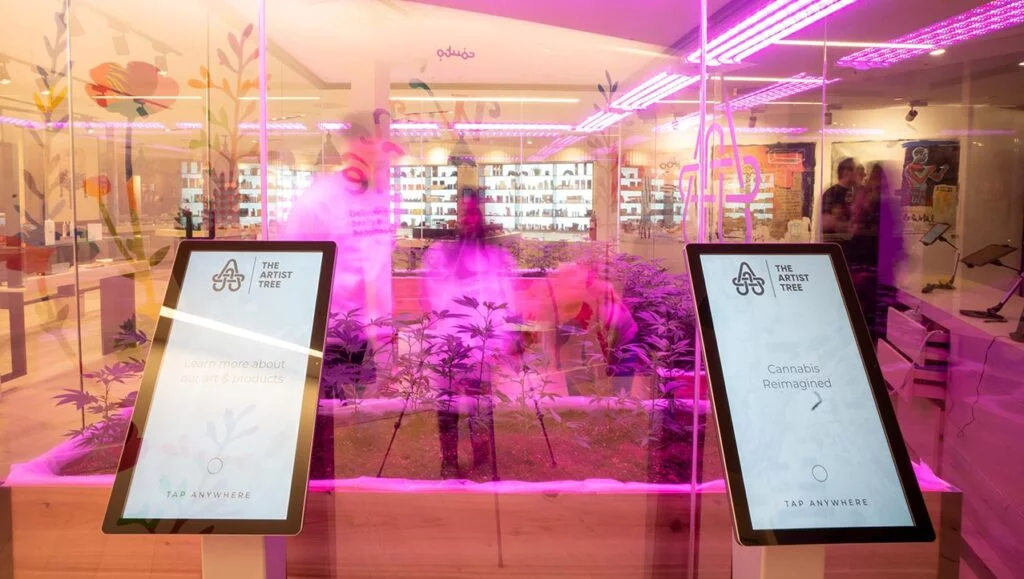 3. Enhance the overall shopping experience.
Similar to the prior points, whether you're looking to browse or transact quickly, having interactive technology makes for a more pleasant and smoother experience.
Fontein elaborates: "It's a nice highlight to their shopping experience. There's this place where they can get extra information and take their time and browse in an interactive touchscreen setting. In some stores we're not processing that many kiosk orders, or not a huge volume of them, but people are still interacting with them."
Screens also serve as a visual asset to help promote deals, specials, events, and more. Beautiful graphics and movement work to attract customer attention and simultaneously are an additional in-store marketing channel.


4. Maximize time spent waiting.
In stores with lobbies, kiosks are a great tool for customers to make use of that wait time.
Even in open floor plans like The Artist Tree WeHo, a mixture of wall-mounted units and freestanding kiosks allow customers to move through the store at their own pace, whether they are a traditional dispensary shopper or heading up to the lounge.


The Consumption Lounge Experience
The team created The Studio Lounge to be like a restaurant or bar where you want to hang out, but not dark, seedy, or feeling like anything stereotypically cannabis-related. "We wanted a space that felt more mainstream, welcoming and a fun place to go consume," says Fontein. "And we already had Seed in the retail space, so it was a logical extension to use the same technology in the lounge experience."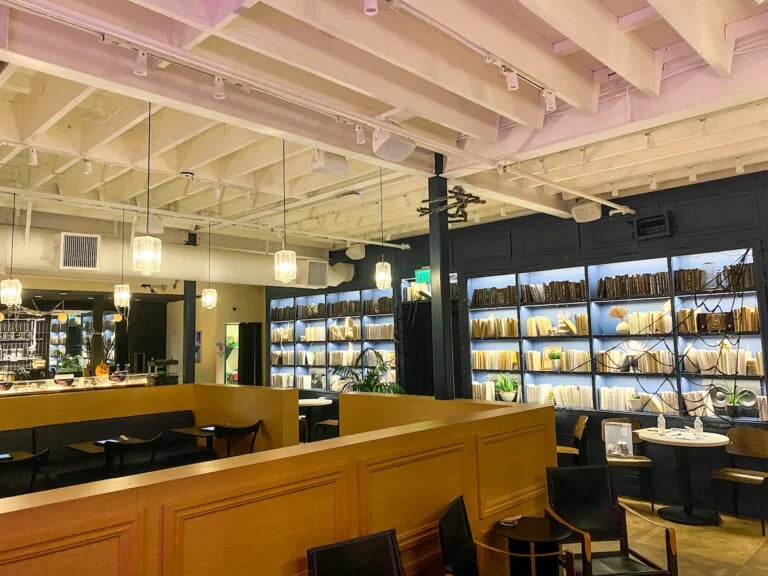 It works like this: Customers arrive at a check-in desk and are escorted into the expansive lounge with booth seating, small round tables, outdoor booths, and a bar-top. Books, plants, and art tastefully fill the space.
Customers are seated at their table and handed a tablet, just like a menu at a traditional restaurant. Consumers have the option to place their order through the tablet, or use it as a visual menu while ordering with a server.
People like being able to self order. It is really convenient and easy to view everything on the tablet. It's been a nice feature to have.

—


Lauren Fontein


Co-founder and Chief Compliance Officer at The Artist Tree
Fontein explains that with a constantly-changing menu and a ton of products, printing menus wouldn't be practical. "We thought about doing QR codes for people to view the menu on their phones but we thought it just made a better experience and a nicer vibe if they can look at it on a bigger device. And then there's also the additional content on there if they want recommendations or FAQs."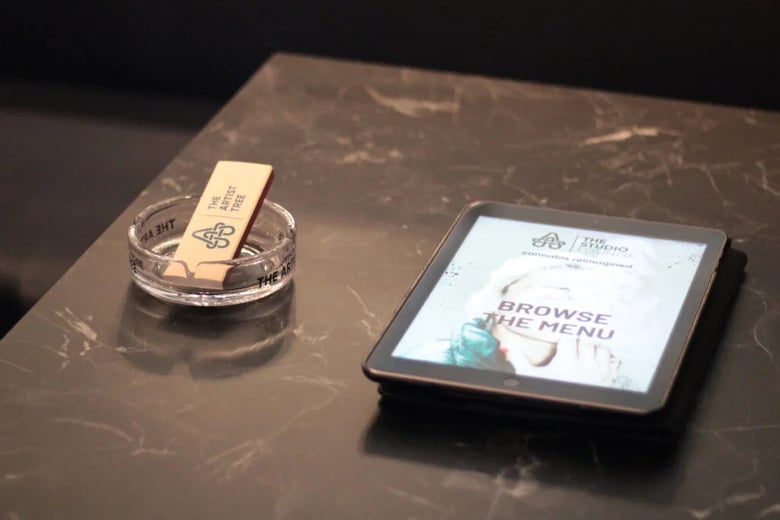 Return on Investment
The Artist Tree has been trusting Seed with their customer experience since 2018. As any savvy business owner would, Fontein has looked at other options. "For us, the Seed system has more functionality as far as customization options and updating the displays for sales and daily deals."
And the return on investment is there.
It's definitely a throughput ROI. For instance, our Fresno store is our highest-volume store. We're seeing a really large number of customers every day and the Seed screens helps us process people quicker than we could without them.

—


Lauren Fontein


Co-founder and Chief Compliance Officer at The Artist Tree
"And if they're waiting, it's a great asset for them because they can actually shop before they get let into the showroom," she adds.

—
Thank you Lauren and The Artist Tree team!
Our allotted time at its end and all my questions asked, I reflected on my time shopping at The Artist Tree, smoking in the consumption lounge, meeting the staff, and the later getting a deeper dive from Lauren.
I knew The Artist Tree was a cool brand, but being there allowed me to see and feel it. And Lauren is right, the spirit of their brand really is a representation of the broader neighborhood.
We are so honored to be the trusted in-store technology provider for The Artist Tree, both in their retail space and consumption lounge.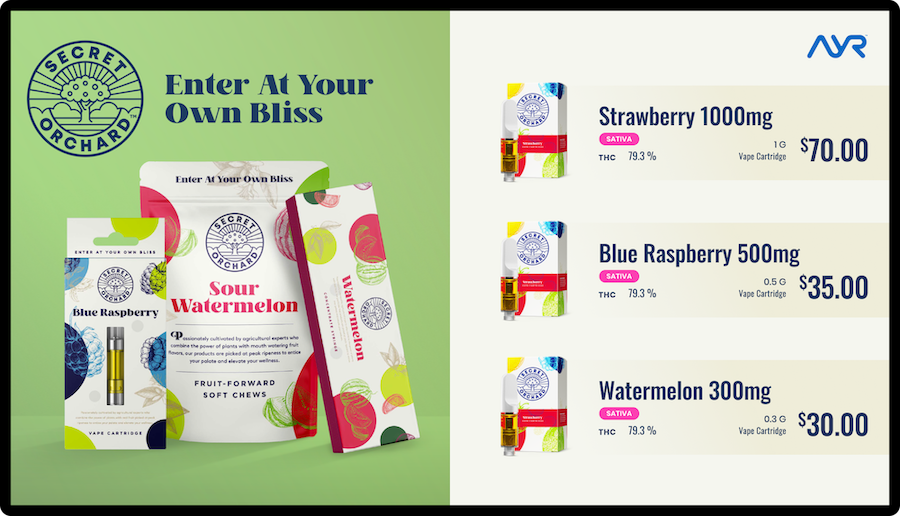 Want to be like The Artist Tree?
Schedule a demo to discuss how our digital signage can make you more competitive.