3 ways to use technology in consumption lounges
Learn how to incorporate TVs, tablets, kiosks and other cannabis consumption lounge tech without sacrificing design or vibe.
---
Are you thinking about opening a cannabis consumption lounge?
Incorporating technology can help:
Guide customers through the process/store flow

Inform/educate on products, policies, upcoming events, etc.

Entertain visitors while they consume
Read on for how to incorporate the three most common types of consumption lounge technology: wall-mounted screens, tablets, and kiosks.
1. Wall-mounted screens / TVs
Go into any bar or restaurant and you're likely to see TVs mounted throughout. Often it's sports games, news, or other stations on mute.
Why? To give patrons something to 'do' or look at. These screens are so commonplace that we don't even consider what purpose they serve.
In a consumption lounge, wall-mounted screens can play a similar role. Here's a few ideas for how to use TVs in your lounge:
Play TV shows or movies. It could be the same show/movie on repeat, a station you always play, or something more curated. The key is to choose shows or movies that make sense to your lounge and fit the vibe. Music videos, classic films, sports games, or ultra-popular sitcoms could work.
Show brand videos. If you have videos that share your brand story, you could play them on a TV in your lounge. Common Citizen (Michigan) uses videos with real people to showcase their brand and culture, creating a sense of community, inclusivity, and loyalty.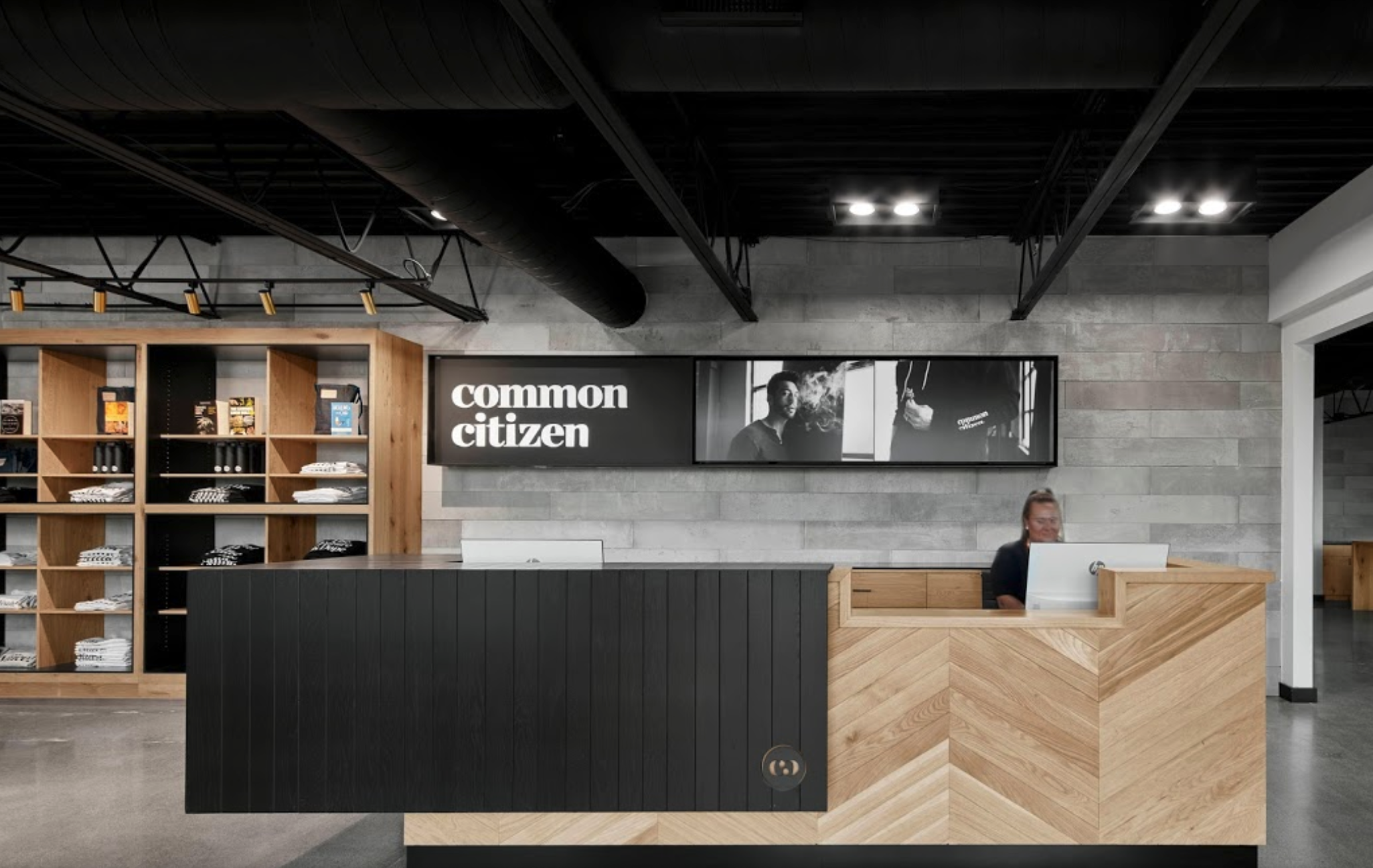 Curate a custom channel. To take it one step further, you can create a custom "channel" with brand videos intermixed with other media. What would you include? A mix of helpful information, cannabis education, and entertainment to satisfy all customer needs. Incorporate beautiful custom graphics, GIFs, and video to capture attention.
You could also incorporate your dispensary menu to expose customers to new or popular products.
Tip! Figure out your average customer visit time and curate a playlist based on that time. That way customers will see your content without it getting repetitive.
We're starting to see tablets emerge in cannabis lounges, much like they're used in restaurants and retail (and some dispensaries).
The Server Model: If you have "servers" who help customers order products or accessories (or even food and beverage), arm them with handheld tablets. In this use case, the staff person would greet a new customer at their table, guide them through how the lounge works, and be able to place orders for them on the spot.
The Self-Serve Model: Another option is to allow customers to serve themselves with tablets placed on the table. The Artist Tree Studio Lounge in West Hollywood uses this format. After customers are greeted and shown to their table, they can browse the menu and place their order immediately, or wait for their server to assist them.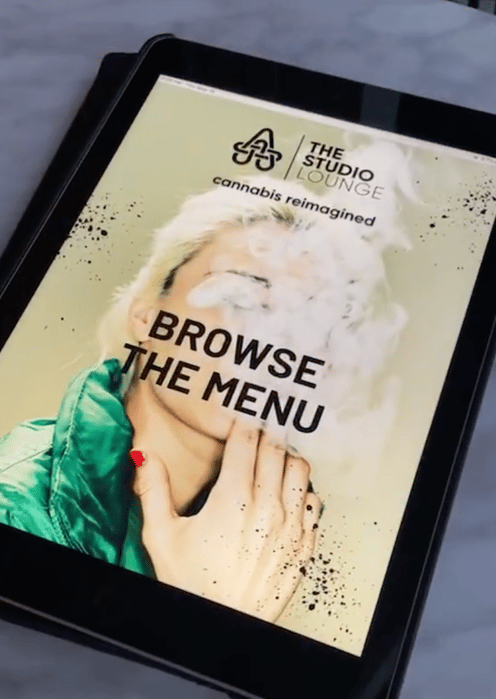 Regardless of which model you choose, tablets are preferred because they're portable and mobile.
While TVs and tablets are most common in consumption lounges, there's an emergence of kiosks and large touchscreens.
In Michigan, lounges cannot sell cannabis products. Customers must bring their own products to the lounge for consumption. At The Botanical Co Kalkushka Lounge, patrons who come empty-handed can either walk next door to the dispensary, or they can go to the self ordering kiosk set up in the lounge, browse products, and place their order. They then go over to the dispensary, show ID, pay and be back lighting up in moments.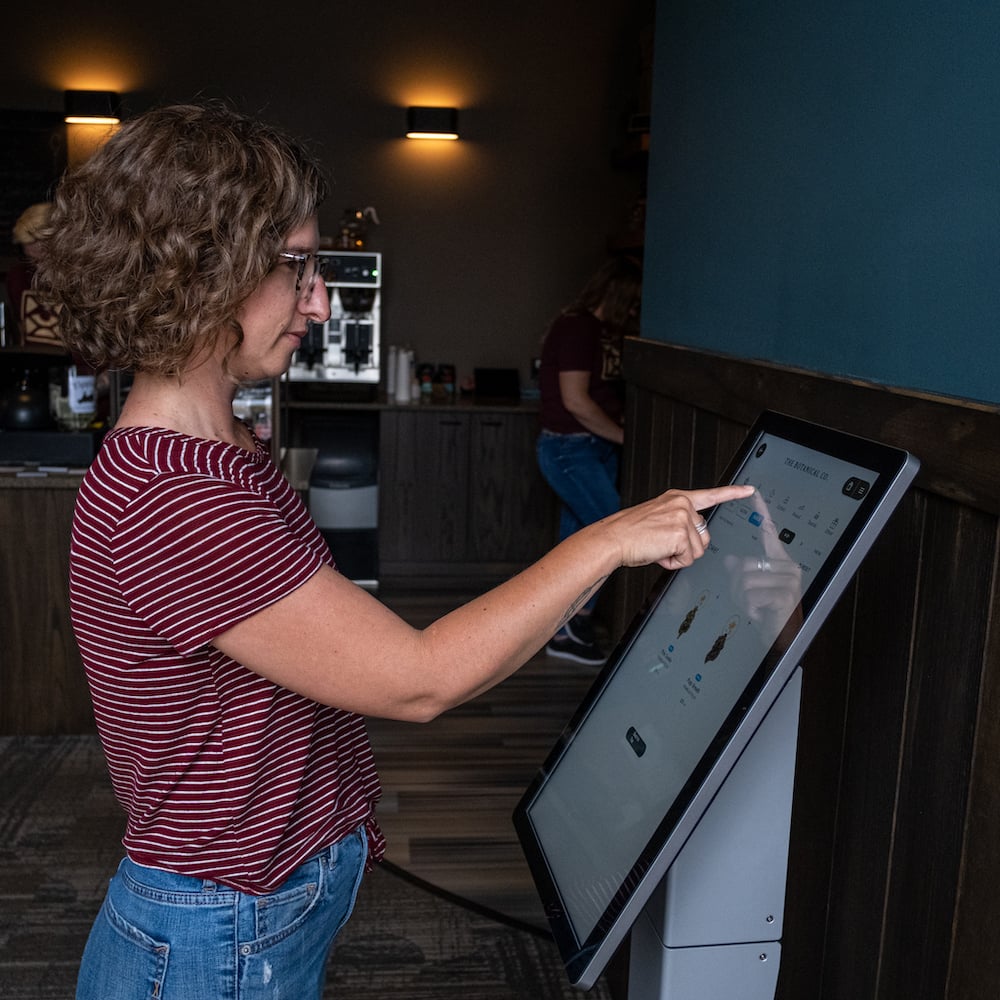 In this use-case, the kiosk is a time-saving option for customers, especially if they want a private space to explore products and their effects, onset time, THC %, etc. before purchase.
Tip: Set up your kiosk to feature products that work well for consumption lounges, like fast-acting edibles or pre-rolls.
Cannabis consumption lounges are on the rise.
Incorporating technology can help create beautiful, modern experiences for consumers.
TVs – entertainment, information, and education all in one place.

Tablets – whether server or customer-focused, tablets allow for easy ordering.

Kiosks – enable self-service for customers, especially those who are in a hurry or in states where sales and consumption are separate.
Here's the pitch. Seed Technology can power all your consumption lounge screens, including your custom TV "channel," tablets, and kiosks.
With customization and the ability to manage every screen remotely, Seed is the right choice for your consumption lounge technology.