4 ways dispensary self service kiosks grow revenue
Dispensary self service kiosks are still new tech. But they play a big role in being more profitable. Learn 4 ways kiosks grow revenue.
---
Cannabis retailers must find new ways to increase revenue and customer loyalty to stay ahead of the competition.
Dispensary technology is the way. It's rapidly changing and developers are pushing the boundaries of innovation to create solutions that will help retailers achieve success.
One of these innovative solutions is self service kiosks.
While dispensary self service kiosks have been used in retail and restaurants for a while, early signs indicate dispensaries stand to uniquely benefit from investing in self service.
Here are four reasons why you should consider the investment:
1. Intelligent upsell capabilities
Most dispensaries have expect employees to upsell customers. But not all employees do so without bias or consistently.
Retail staff members are focused on getting customers through quickly to reduce wait times and serve more people, not taking the time to upsell. While a reduction in wait times is good, not taking the opportunity to upsell to customers means you're leaving cash on the table.
With kiosks, you can decrease wait times and still upsell to customers all at once. Self service from Seed Technology intelligently recommends and upsells products to customers based on industry trends AND on their unique preferences.
Each and every customer is given custom recommendations and and is programmatically upsold, boosting sales and overall profits.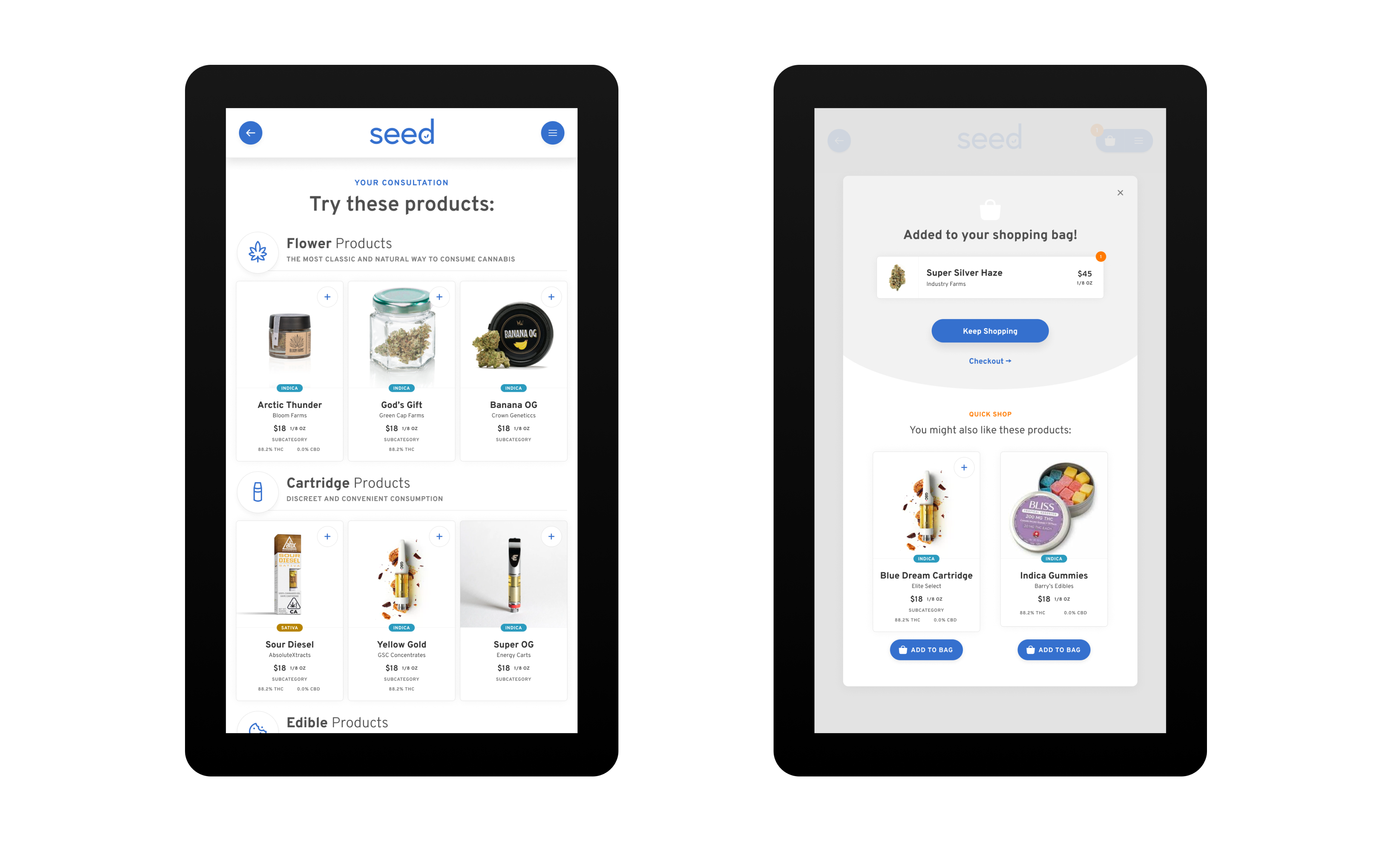 Kiosks have the ability to display and highlight every one of your products. You also have the opportunity to feature specialty products to entice customers, like pre-roll packs instead of single pre-rolls.
Dispensary self service kiosks give operators the ability to promote certain products and specials at scale.
Plus, kiosks generate data to help you learn which cannabis products are favored by your customers so you can push them more effectively.
Happy Valley reports an average ticket size 26% higher than a typical in-store order.
3. Decreased front-of-house staff
The conversation surrounding kiosks often leads to fear. "Kiosks will take away the jobs." But relax, this is not really the case.
While kiosks do automate many front-of-house tasks, that doesn't mean they're replacing all your retail staff. Instead, kiosks supplement front-of-house staff during peak hours and are consistent sources of product and educational information.
Instead of adding more staff for busy times (and being overstaffed the rest of the time), kiosks can help create a consistent flow without more people.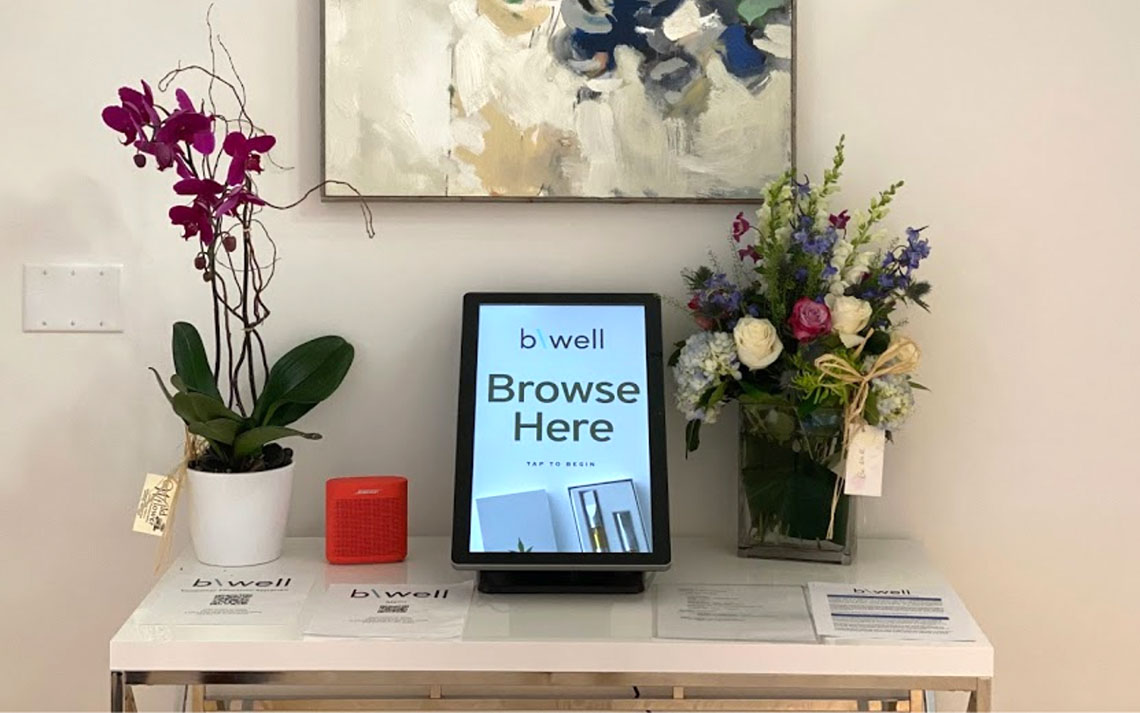 Kiosks also allow staff responsibilities to be adjusted to the back-of-house to help increase the speed at which customers get their orders.
A Seed Technology kiosk isn't a replacement for a staff member — it's a tool to help them be more effective selling product.
But with that said, staffing in the cannabis industry is difficult. 60% of budtenders don't make it past two months, according to Headset. Kiosks are more reliable, consistent, and affordable in times of high turnover.
We're even seeing some dispensaries opt for a self-service ordering only model where staff focus on fulfilling orders.
4. Improved customer experience
Shortened wait times, improved order accuracy, faster speed of service — these are things your customers want. Self service gives you phenomenal tools to achieve all of these goals.
Kiosks, especially combined with front-of-house staff, shorten wait times immensely. Because customers input their own orders and have product information available at their fingertips, there's no risk of staff mishearing orders or entering them incorrectly, improving accuracy.
Kiosks also streamline the entire ordering process, getting products to customers faster. Don't forget that each customer is being upsold and offered products in a way that a budtender doesn't always have time to do!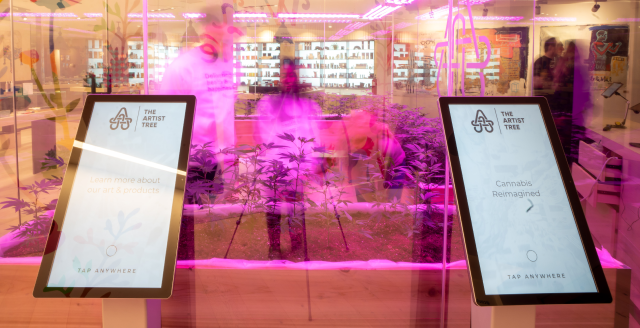 And at the end of the day, consumers are used to self service. They may not always use it, but they prefer to have the option. Giving cannabis consumers the choice for self service shows that you're modern and care about their experience.
Giving your customers more control over the ordering process significantly enhances their experiences. Add in the benefits of faster moving lines and quicker, more consistent service, and you can guarantee your customers will be repeat buyers.
In this cutthroat market, you can't get ahead unless you invest in customer experiences that increase efficiency and customer satisfaction.
Dispensary self service kiosks are powerful tools for:
Intelligent upsell

Larger basket sizes
Decreased staffing costs
Better customer experience
Seed Technology is the ideal self service solution to help your cannabis dispensary be more successful and increase revenue. Learn more.