What consumers like & dislike about cannabis retail kiosks
Kiosks are common in retail, but what about dispensaries? Here's what consumers say they like / dislike about cannabis retail kiosks.
---
Interactive technology is part of our everyday lives — from groceries stores to airports. Screens really are everywhere.
Even cannabis retail kiosks are on the rise.
So how do dispensary shoppers feel about using a touchscreen kiosk to browse products and place orders?
75% of cannabis shoppers would use kiosks
Recent research asked cannabis consumers: "If a dispensary offered in-store self ordering kiosks, would you use that technology"? 75% said yes.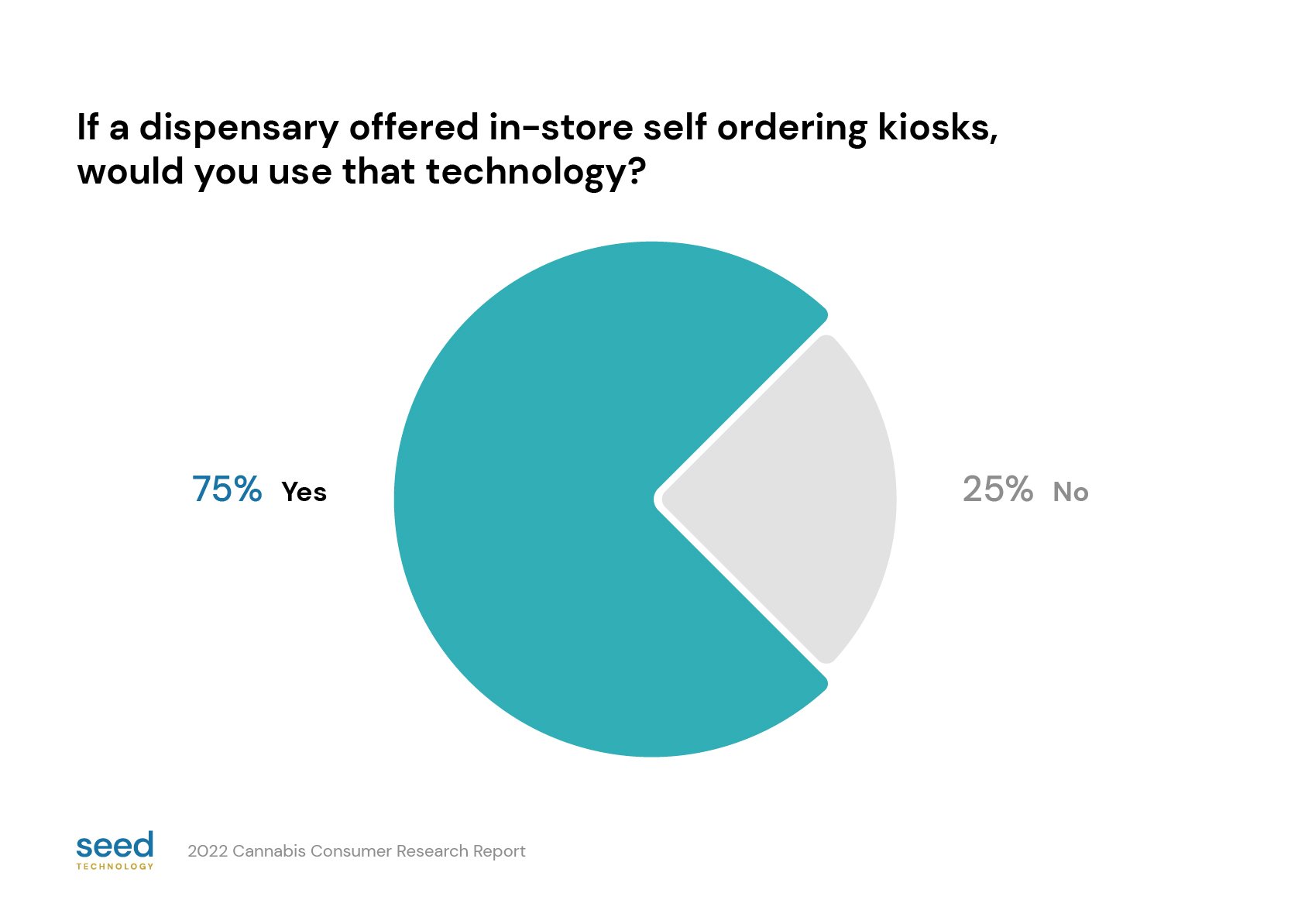 Let's take the analysis one step further:
Payment method: Those who said no to kiosks were also more likely to prefer paying with cash.

Age: Those aged 45-54 and 65-74 were less likely to prefer the more tech-forward ways of shopping. Not surprisingly, those 25-34 and 35-44 were more likely to prefer debit cards and kiosks.
Now let's dive into the why. We asked survey respondents to explain their answer. Here are the reasons given for why they said "yes" or "no" to the cannabis kiosk question.
Why people like cannabis kiosks
Overall, those who would use interactive kiosks at dispensaries spoke about speed and efficiency.
Here's are the themes related to what they said:
Quick / easy / more efficient

Easier / faster when I already know what I want

I can browse on my own / enjoy not having to interact with people

Able to see all products / sort by preferences
What does this tell us? It shows that efficiency, speed, and ease are important to dispensary shoppers. It also shows that they are willing to use technology to ensure they have this kind of experience in-store.
For others, cannabis retail kiosks are a convenient way to not have to deal with humans. If shoppers know what they want, and want to finish the transaction quickly, they don't mind (and actually prefer) bypassing staff and taking an express route through the dispensary.
And while the two scenarios above lend themselves to more experienced dispensary shoppers, there's a use case for the inexperienced as well.
With kiosks, shoppers can see all your products on one screen, and then sort/filter based on preferences. One of the hardest parts about dispensaries is understanding what cannabis products they sell, what is in stock, and the details of each item.
Rather than asking a budtender about edibles with low THC %, shoppers can sort digitally, see the options right in front of them, then click into each to understand the particulars. This is a much better experience than trying to follow a budtender quickly going over several products verbally.
With a kiosk solution, there's a higher likelihood of consumers getting the right products for their needs.
Ok, now to the flip side, the reasons why people don't want to use kiosks in a dispensary.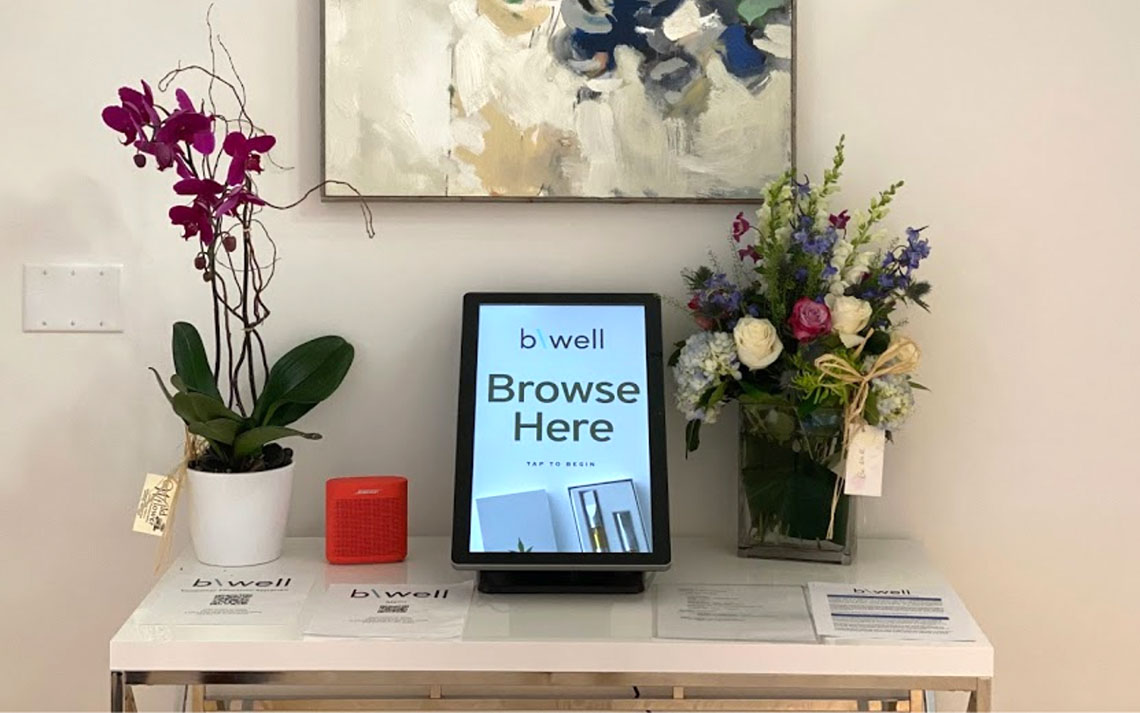 Why people dislike cannabis kiosks
Overall, those who said they would not use interactive kiosks at dispensaries spoke preferring to interact with store staff, and have more opportunity to ask questions.
Here's are the themes related to what they said:
Prefer to talk to budtender / ask questions / learn about products / hear suggestions

Prefer to order online from home – If not ordering ahead, prefer to deal with a person

Want to see the actual product I'm purchasing
What does this tell us? It shows that the human element of buying legal cannabis has not — and will not — go away.
For many respondents, that helpful budtender, with suggestions, recommendations, and guidance, is a valued part of the dispensary shopping experience. They want to hear what's new and good. They want someone to validate their purchases to achieve their goals.
Others said rather than using a kiosk in-store, they would prefer to just order online (from home, through the dispensary's website). They then spoke of if they didn't order ahead, they'd rather deal with a budtender. This illuminated another component to the purchase process, and how all ordering channels work together.
An interesting note: The comments showed that the respondents didn't understand the features or functionality of good cannabis retail kiosks. They talked about not being able to see the product, or not being able to browse the menu, or get recommendations based on their desires. It appeared that they thought this type of technology was basic ordering only.
Seed interactive solutions + self-service ordering allow consumers to browse the store's entire in-stock inventory, click in to see details, sort and filter by preferences, find related products, take a consultation quiz, and build their own cart (if desired).
New research shows that 75% of dispensary shoppers would use cannabis retail kiosks if available.
Those for kiosks spoke of ease, convenience, and efficiency. Those against them spoke of getting information and recommendations from budtenders.
This person's open-ended response summed up the majority of respondents' comments: "As long as I know what I want, I would love the efficiency of self checkout. If I need recommendations, I would prefer to talk to a budtender."
The takeaway: Customers care about your in-store experience, and the technology involved, but have different preferences. To satisfy all types of shoppers, provide options in your dispensary — like kiosks for those who want them, and budtenders for those who don't.