What is dispensary digital signage?
Learn the definition of dispensary digital signage, why cannabis retailers need it, and what to display on your screens.
---
Digital displays serve many purposes, like finding gate info at airports, navigating conference venues, hospitals, or malls, ordering food at quick-serve restaurants, and seeing retail deals.
Common in other industries, digital signage is the future of cannabis retail.
But what exactly is dispensary digital signage?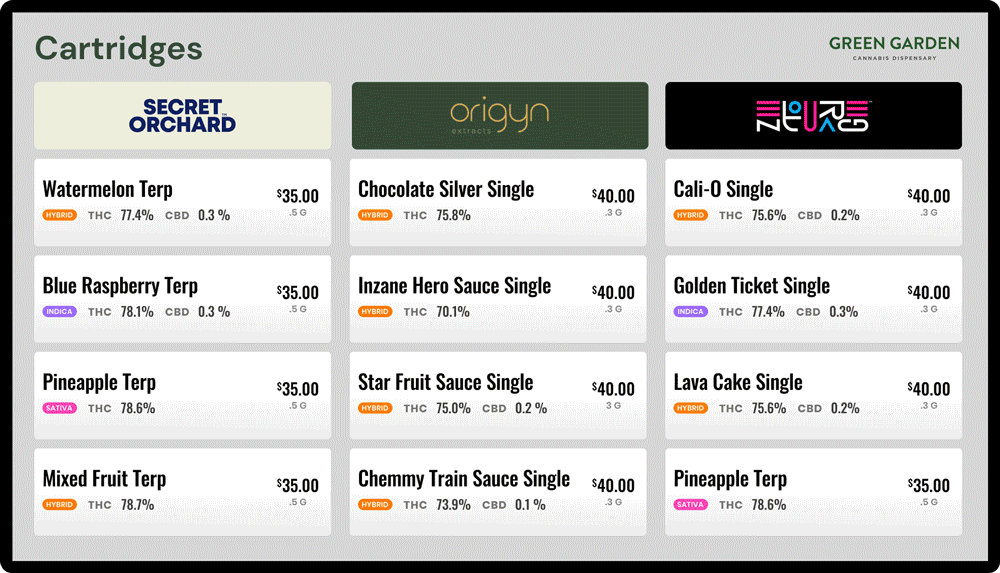 Dispensary digital signage defined
Digital = electronic technology (as opposed to analog, which is physically transmitted)
Signage = signs or symbols that communicate a message
So …
Dispensary digital signage uses an electronic surface, such as computer, tablet, or television, to display information or content.
This signage can be non-interactive, as in a TV on a wall showing information to viewers, or interactive, where customers can impact the content.
There are three components of a digital signage system:
Content – The actual videos, images, graphics, menus, text, or other information you put on your screens.
Hardware – The physical screens you use to show your content. This can be a single large screen, multi-screen video walls, freestanding kiosks, table-top displays, and/or tablets. Plus any digital signage player needed to connect the hardware and software, such as AppleTVs.
Software – The platform or application you use to store content, create playlists/channels, and deploy that content to the hardware. Sometimes referred to as the CMS (content management system).
Understanding the what of dispensary digital signage is easy, but many operators don't yet understand the why.
Why you need digital signage
Digital signage serves several purposes, but the general point is to send specific messages to your customers. Engaging signage can also create and elevate the overall experience of shopping in your dispensary.
Encourage consumer behavior
Since digital signage exists within your cannabis dispensary, the audience is people who already know you exist, and have taken the action to shop with you.
You already have their business. Now you need to further capture their attention, share key information with them, engage them, and encourage certain behaviors from them while in store.
Communicate effectively
Perhaps the most important reason why you need digital signage in your dispensary is because it engages and communicates more effectively than static signage.
It's always up-to-date and movement and visual appeal makes it more captivating, and thus, people will pay attention to what you're trying to communicate.
Not only can you communicate about your brand, deals, key products, upcoming events, and more, but you can do it in a way that's custom. Scheduling content to a specific day or time of time keeps the content extremely relevant.
And customers can trust that your menus always display in-stock inventory because of API integrations to cannabis point-of-sale or ecommerce platforms.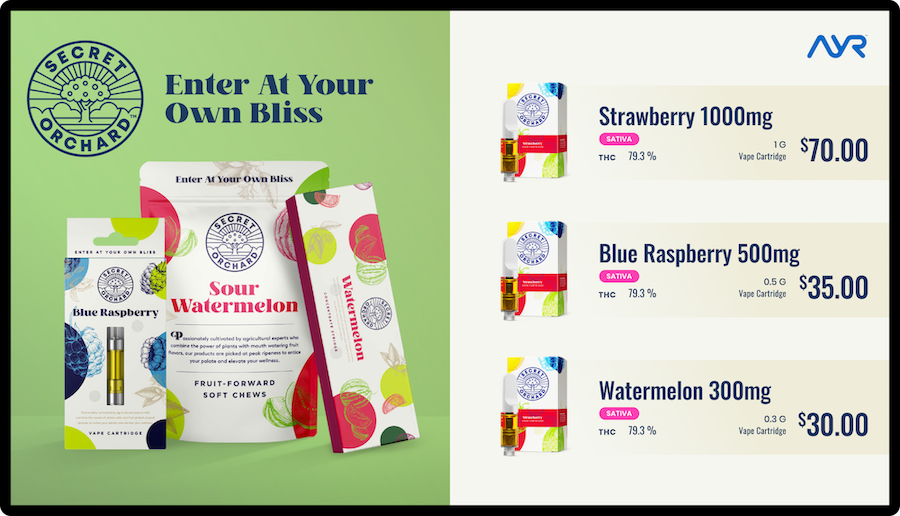 Create a modern aesthetic
Cannabis businesses are moving toward in-store digital, especially in newer markets where dispensary design is highly valued. Once considered a nice-to-have, digital signage is now a key component of successful cannabis stores.
Printed dispensary menus just don't carry the same appeal that they used to, being inaccurate, ineffective, and costly. Unconsciously, consumers see digital signage as a sign that your company is keeping up with the changing trends in consumer behavior and preferences.
Educate
The business and science of cannabis is still very new to most people, even if they're long-time consumers. Digital displays within a dispensary give consumers the opportunity to learn about marijuana, cannabis products, terpenes, strains, purported effects, and more.
And with learning comes a higher likelihood of choosing the right products for their needs. The industry cares about access to safe and effective consumption of cannabis products, and education goes a long way in achieving that mission.
The most effective way to offer in-store education is through interactive installations, where shoppers can browse on their own. Added bonus: Seed allows customers to build their own cart while they're learning, saving a step in their shopping journey.
What to display on digital signage
You can display whatever you'd like on your screens. The options are endless.
However, once you understand who your customers are and why you have digital signage in your dispensary in the first place, you can decide what content to display on your screens.
Content is anything you display on your screens, including product menus, text, images, video, or gifs. They can be static, animated, or scrolling.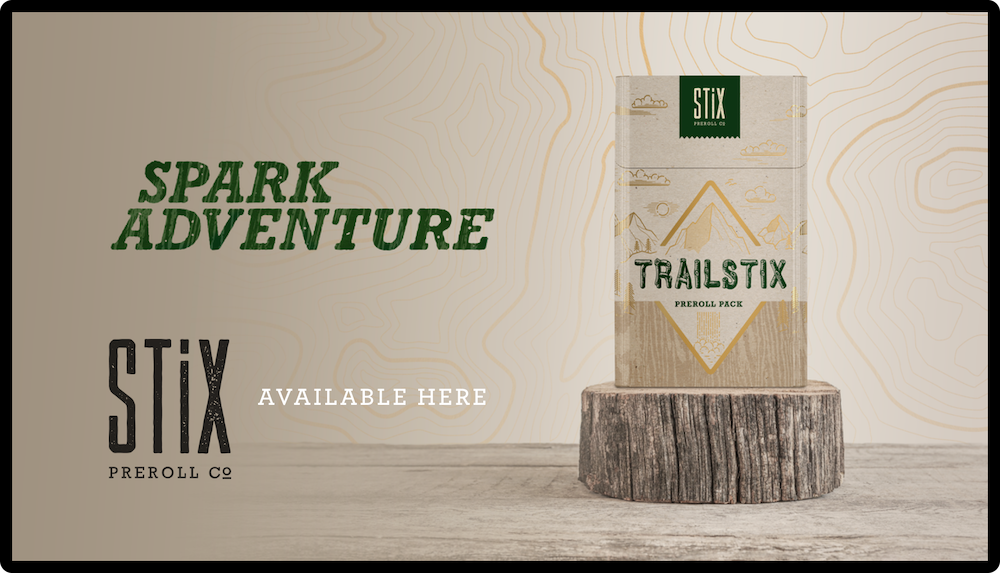 Your content is the individual page shown on the screen, but also refers to the collective "channel" or "playlist." Think of it like a presentation, you have slides and you have the full deck. Each slide can be viewed individually and provide value to the audience, but it's the full presentation that tells the broader story and creates a cohesive experience.
Here's some examples of types of content to display on your dispensary screens:
Menu of cannabis inventory – segmented by brand, product type, price, medical marijuana products vs. adult-use, etc.
Advertisements of specific products – sell this space to partner brands or use it to highlight and drive awareness to your high-margin or house brands.
Events – get the word out about upcoming events and promotions.
Deals and discounts – capture attention and knowledge of daily cannabis deals and specials, or encourage upsell of on-sale products.
Social channels – inform customers about your social channels and encourage engagement.
Brand story / core values – share a brand video or images to build trust and loyalty. Showcase your team, community involvement, or growing practices.
Other – any topic is fair game, including promoting employees, posting job openings, and more.
Dispensary digital signage is an electronic installation where you use a software tool, like Seed, to build playlists that populate on in-store screens.
Screens + content + software = dispensary digital signage system
The benefit of in-store signage is capturing attention, sharing information, encouraging behavior, and building trust with your dispensary customers.
Seed allows you to do all this and more. Schedule a demo to see how our dispensary digital signage software can help you meet your retail goals.