Key insights: Cannabis consumer survey 2023
We asked cannabis users how they feel about shopping at dispensaries. Here are a few key insights from the cannabis consumer survey.
---
We recently asked 100 cannabis consumers how they feel about the dispensary shopping experience.
Specifically, we asked:
What they enjoy most about shopping at dispensaries

What they enjoy least

How often they shop at dispensaries (and how much they buy)

How they decide what products to buy

Their preferred way to see the product list

The biggest indicator of whether they'll visit again

The importance of dispensary deals/specials/promos

Likelihood of joining a loyalty program

Preferred payment methods

Whether product selection/variety influences where they shop

Likelihood of using self-ordering kiosks, if available
Here are a few of the interesting insights. Download the cannabis consumer survey report to see all the results!

Budtenders have incredible impact
We all know the important role that budtenders play. They serve as the front-level retail staff, which is often a low-paying role. But they also serve as cannabis consultants and product experts.
And many consumers rely on them for advice. This means that hiring good budtenders (and providing them with appropriate pay and benefits) should be a top priority.
The cannabis consumer survey showed that 31% of respondents trust budtender advice or recommendations when deciding what products they'll purchase. 1 in 3 visitors rely on your team to steer them toward products they'll enjoy.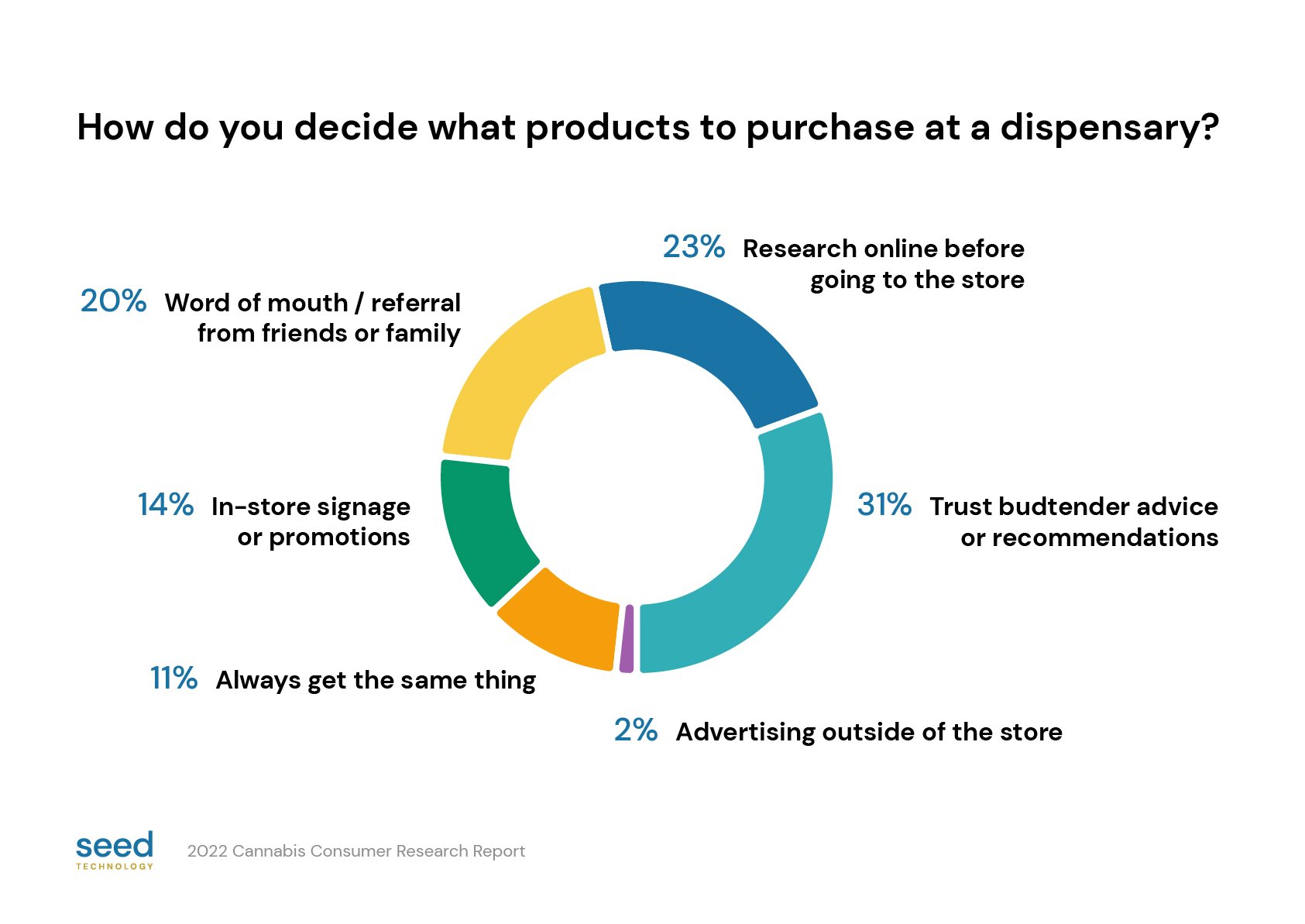 And if they don't like your staff, prices, or product selection, they won't come back.
Consumers want non-cash options
Every POS and ecommerce provider is talking about payments these days. Whether they call it debit, cashless ATM (RIP), ACH, mobile wallet, PIN-based debit, or some other confusing name, what they're really talking about is compliant ways to pay without cash.

And all the talk about payments within the industry is warranted. When asked about their preferred method of payment in dispensaries, 66% of respondents said debit solutions.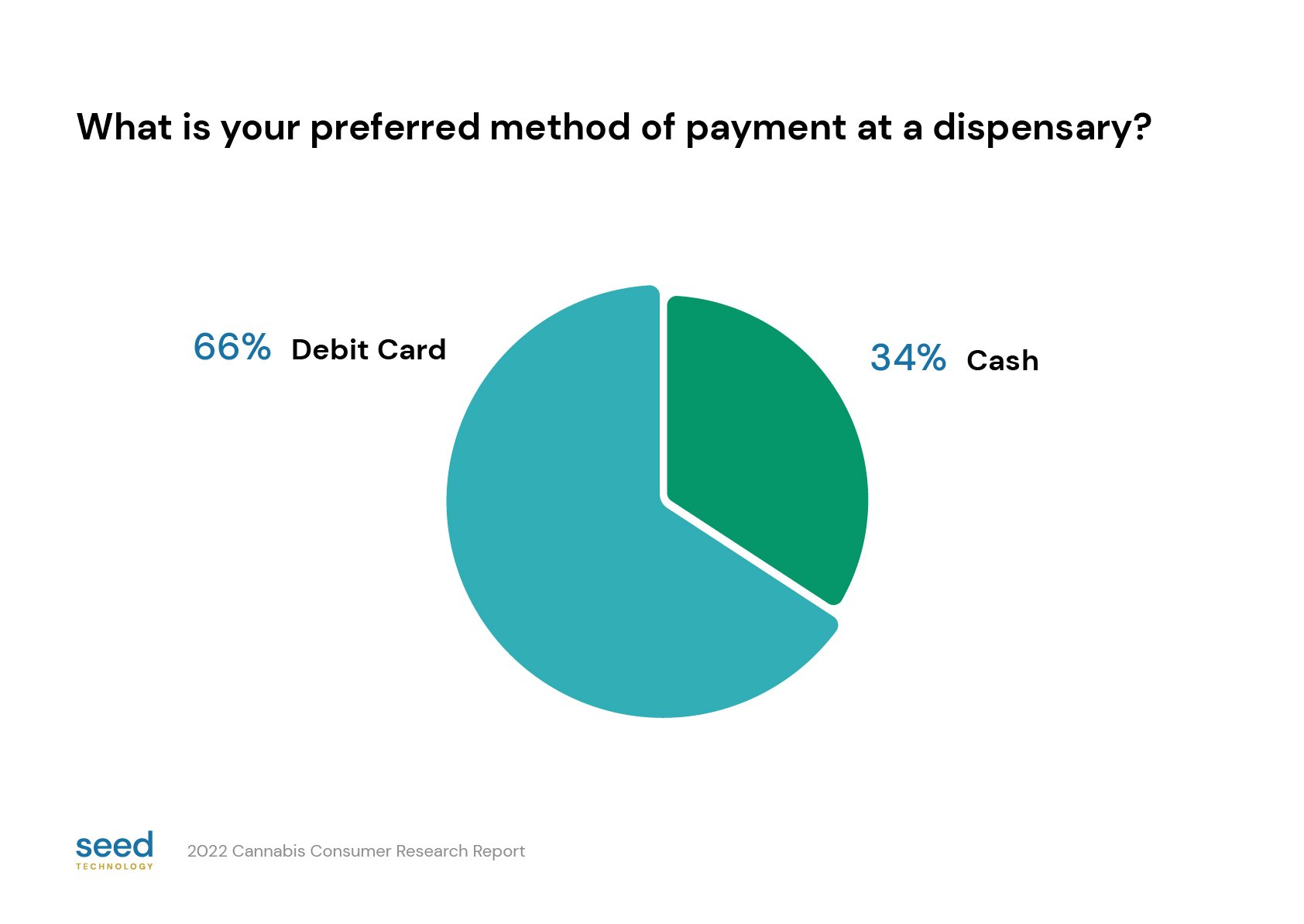 But that comes with a caveat: We then asked why they preferred that payment method. We found that many people chose cash, but then explained that their local store(s) or market don't have debit options.
This means that this number would probably have been higher if everyone answered with their "preference" rather than their "reality."
Cannabis product variety matters
Selection came up on several of the questions. And it appears that it's a key factor in whether new consumers will visit your dispensary.
We specifically asked whether product variety influences people's decision to shop at a dispensary. 53% said "Definitely" or "Yes" and only 12% said "No" or "Not at All."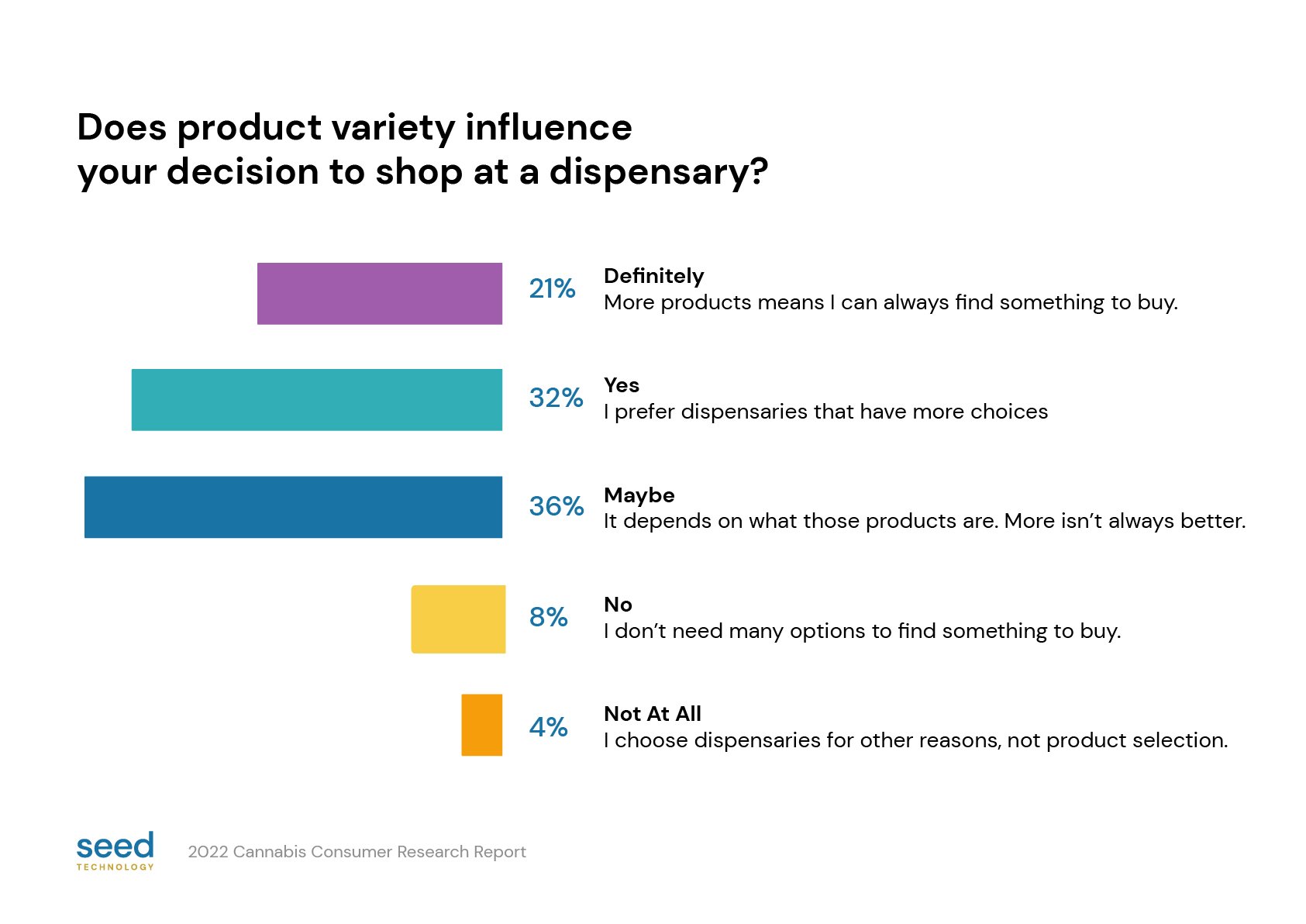 What does this mean? Variety and selection matters. And the 36% who said Maybe expressed that quantity doesn't always matter as much as the quality of those products.
We can learn a ton by asking regular dispensary shoppers what they want. Even though this was a preliminary cannabis consumer survey and only featured 100 shoppers, it gives us important insight into what they want.
As consolidation ramps up, consumers get more discerning, and new states start sales, it's more important than ever to provide a great experience.
That means knowledgeable budtenders, appropriate product selection, fair prices, and the option to pay with non-cash options.